In the game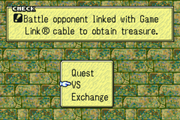 Tactics Ogre: The Knight of Lodis, two people link up through Game Link Cable.
Function
[
]
In Versus Mode, two people link up to battle. There are some rules in this mode of play:
Each person chooses up to 5 characters for their team.
A character who dies in battle is not permanently lost.
Certain spells can't be used.
After the battle it can be obtained items whether you win or lose.
Emblems can be obtained, but not experience points.
The battles automatically ends after 20 turns.
During battle, characters can't change classes .
By pausing a battle, emblems and items gained will be lost.
Banned Spells
[
]
Resurrection
Time Flux
Teleport
Fluid Magic
Necromancy
Items
[
]
See the main article about the Weapons
See the main article about the Armor
See the main article about the Items
After the battle ends the winner gets 3 items while the other person gets 1 item.
A
B
C
D
Angel Fruit


Winged Shoes
Orb
Tathlum
Answerer
Holy Comet
Fragarach
Reincarnation

Crescente


Sorcerer's cup
Rune Plate
Dark Shield
Sanscion
Dragon Armor
Reincarnation
Ripple's Staff

Bloody Cleaver


Sword Emblem
Matsukaze
Gypsy Queen
Sherwood Hat
Dragon Armor
Sword of Tiamat
Cloak of Authority

Black Armor


Kagari-bi
Frozen Axe
Dragon Shield
Earth Javelin
Mystic Hammer
Laevateinn
Crown of Intellect

E
F
G
H
Thunder Bow


Stone of Swiftness
Inca Rose
Dragon Helm
Goblin Helm
Fur Coat
Forest Boots
Saint's Garb

Cup of Life


Cloak of Oath
Cursed Garment
Chocolate Shield
Candy Armor
Sacred Ring
Ring of Flotation
Dark Ring

Dragon Gem


Candy Helm
Cassowary Feather
Tome of Discipline
Urn of Chaos
Healing Essence
Magic Essence
Altar of Resurrection

Spirit Fruit


Wisdom Fruit
Healing Salve
Magic Salve
Mirror of the Gods
Healing Seed
Magic Seed
Altar of Resurrection
To determine which item the player will get after the battle, each action made gives or takes away points.
| Action is successful | Action goes wrong | An enemy character is defeated | An own character is defeated |
| --- | --- | --- | --- |
| +2 Points | -1 Point | +10 Points | -5 Points |
When the battle ends, a score is calculated. The score the player get determines the prizes given out.
| ≥50 Points | 40~49 Points | 30~39 Points | 20~29 Points | 10~19 Points | 9~(-10) Points | ≤(-11) Points |
| --- | --- | --- | --- | --- | --- | --- |
| A,B,H | B,C,H | C,D,H | D,E,H | F,G,H | G,H,H | H,H,H |
External Link
[
]