Floating City

PSX Map Name
Temple Shangrila
SNES Chapter Name
Cloud City
SNES Map Name
Shangrila
SNES Revisit Name
The Shrine of Shangrila
Size
3x4 (Medium)
24 Hour Speed
Long
Stage Music
Autumn Sky
Boss
Gares
Shangrila is a stage in Ogre Battle: The March of the Black Queen.
The Sky Island of Shangrila is the home to the Goddess of Justice Fellana who is worshiped at the Temple of Shangrila. The people of the Sky Islands left their homes on the surface to find a place that welcomed peace but their contentment was shattered with the arrival of Rashidi and the Empire. They sacked the Temple of Shangrila of many of its artifacts and Rashidi used his immense magical power to move the Sky Island on a collision course with Xenobia Castle.
Locations
Edit
SNES Name
PSX Name
Rebel Base
Elshilia
Elshilia
Towns
Magician's City Grell Nish
Magician's City Interaken
Magician's City Montahn
Temple City Montrosa
Magician's City Nushatl
Shrine City Ohlten
Walled City Rusheln
Shrine City Shellmat
Magic City Grellni
Magic City Interaken
Magic City Montahn
Holy City Montrosa
Magic City Nushatl
Religion City Ohlten
Fortress City Rusheln
Religion City Shellmat
Enemy Base
Shangrila
Shangrila
Roshian Temples
1
Hidden Towns
None
Hidden Temples
1
Enemy Unit(s)
Edit
Stage Boss Unit(s)
Edit
Spoiler alert: The hidden text contains spoilers.
If Tristan is in a unit that comes into contact with the boss:
| | |
| --- | --- |
| | You're the swine Zenobian who should be in his grave already! |
| | So you're Gares. Now I shall have revenge for my father! |
| | A little brat like you is going to take me on? Ha! Ha! Ha! Stop your joking. I'll make you wish you already WERE in your grave! |
| | Enough of your cheap talk! It's time to put you to sleep for good! |
If Rauny is in a unit that does not contain Tristan and comes into contact with the boss:
| | |
| --- | --- |
| | Well, if it isn't the little Paladin. I'm surprised you're here... |
| | So it seems that you are the immortal little monster they say you are... |
| | You'd best watch how you speak, little girl. Your father would be displeased! Why do you refuse the power of the Dark? Why not retain that beauty forever? |
| | Fool! A flower is beautiful because it loses its petals! |
| | And this flower will now lose its head! I'll deliver it to your father personally! Come, little Paladin! Show me what you can do! |
Events During Stage
Edit
Events After Stage
Edit
Neutral Encounters
Edit
Buried Treasure
Edit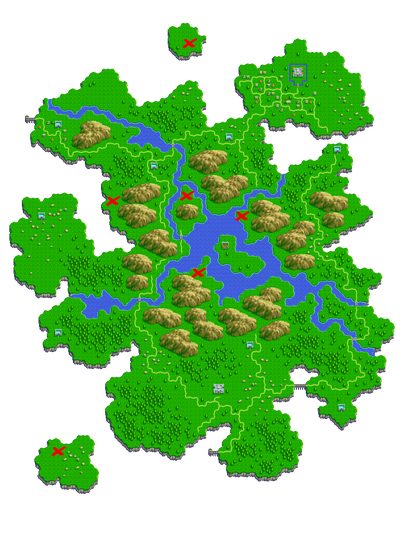 Community content is available under
CC-BY-SA
unless otherwise noted.