"A gigantic Octopus that is extremely powerful in water, but less effective on land. It's difficult to dodge its 8-legged assault."
— Description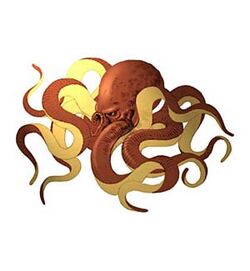 The Octopus is a class in Tactics Ogre: The Knight of Lodis, Ogre Battle: The March of the Black Queen and Tactics Ogre: Let Us Cling Together. Found throughout the seas, the octopus is not only a predator to other sea creatures, but is sometimes used by many of the races of the world.
Appearances
[
]
The Octopus has the appearance of a red octopus, with a yellow underbelly. Boasting the most attacks in the front row in the game and high hit point total, the Octopus makes a formidable front row class in water terrain. However, outside of the water this class suffers from the Slow movement type. At Level 12 with an Ali. of 55+ the Octopus can be promoted into a Kraken.
Statistics
[
]
Octopus
Resistances
Requirements
Base Unit
Physical
64
Size
Large
Fire
54
Leader
No
Cold
53
Recruit
No
Lightning
20
Movement Type
Deep Sea
Black
50
Deployment Cost
250 Goth + (50 x level)
White
50
Statistic Increases Per Level
Hit Points
Strength
Agility
Intelligence
9-13
3-5
2-4
1-3
Attacks
Row
Description
# of Attacks
PSX Name
SNES Name
Element
Front
Whips enemy with tentacle
4

Tentacle

Tentacle

Physical

Back
Whips enemy with tentacle
2
Tentacle
Tentacle
Physical