A remote town of Amorika. This town has been the main headquarters of the Bask Religious Order. It was a popular religion before the reign of King Dolgare.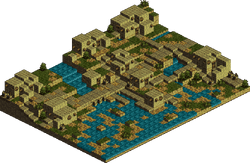 History
Story
Treasure
Shops
Conflicts
First Chapter
Scene 5
Objective: Kill the leader!
Leader: Mordoba (Drops Stun)
Enemies: 3 Soldiers, 2 Skeletons, 1 Ghost
Union: Gargastan Kingdom
Guests: Kachua, Vice, Presance
Music
First Chapter
Scene 5
Avilla Henya - Composed by Hitoshi Sakimoto.
Terrain
Obstacles
Community content is available under
CC-BY-SA
unless otherwise noted.