CODA, is post-game content exclusive to the PSP version of Tactics Ogre: Let Us Cling Together. It was first released as free DLC for the Japanese release of the game, but came packaged with international releases.
There are four episodes to CODA, that must be completed in order. In terms of canon, the events take place after the Hanging Gardens, but before the coronation ceremony. Although, Episodes 3 and 4 see Denam invoking the World Tarot to revisit the past, so their canon is dubious. Anchor points exist after Episodes 1, 2, and 4.
CODA is the only place to recruit Iura Wolph, Warren Omon, and Lanselot Hamilton, opening up the Songstress, Astromancer, and Paladin classes respectively. Some existing locations are expanded with more maps, while the San Bronsa Ruins provide a completely new dungeon. Aside from the first battle of Episode 1, enemies in CODA scale to the party's level.
Events in CODA are triggered by viewing Talk topics and visiting certain locations. Once CODA has been started, most sidequests and recruitable characters available in Chapter 4 are locked out.
Episode 1: The Songstress
[
]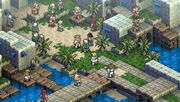 A beautiful winged songstress is becoming famous in Port Omish, though rumors abound of death stalking those who hear her majestic song. During a visit to the Port, Denam, Gildas, and Canopus are surprised to find the songstress is in fact Canopus' sister, Iura.
To learn why she has come to Valeria, and what connection she may have to the dreaded wicce Sirene of legend, they must follow her deep into the Pirate's Graveyard.
Requirements

[

]
Locations

[

]
Battles

[

]
The first battle at Port Omish pits Denam, Canopus, and Gildas alone against a mob of level 25 (non-scaling) enemies. This battle can be retreated from with certain dialogue choices, while still continuing the story.
After unlocking the next part of the episode by reading the relevant talk topics (a scene should play at Cave of Spite), the next task is to fight to the Into The Darkness map in The Pirate's Graveyard. If the Graveyard has already been cleared, then a shortcut from Astride the Border to Crumbling Garden can be used.
4 story battles

Port Omish (leaderless)
Pirate's Graveyard - Cave of Spite (leaderless)
Pirate's Graveyard - Bosom of the Sea God (leaderless)
Pirate's Graveyard - Into the Darkness (Sirene)

7+ battles total if the Pirate's Graveyard has already been cleared (10+ if not).
Rewards

[

]
Episode 2: The Search for Warren
[
]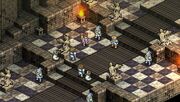 Canopus, Gildas, and Mirdyn prepare to leave Heim in search of Warren. Mirdyn reveals that a great Seer in their homeland prophesied that all five Xenobians would eventually return alive to Xenobia. Believing that Warren is still alive, but trapped on the other side of the Chaos Gate, they resolve to find a way to free him. Denam volunteers to join their effort.
As the Chaos Gate beneath the Hanging Gardens is destroyed, and all gates in Xenobia long since sealed, they decide to turn their search to the Palace of the Dead. Said to be built by the Dragon Lords, it may yet have more secrets to give.
Requirements

[

]
Location

[

]
Battles

[

]
Episode 2 is far and away the longest part of CODA. The first target is to reach level 98 of the Palace of the Dead. If the Palace has already been cleared in Chapter 4, then Palace Guides can be used to skip to level 75. For this descent, all story battles after Xadoba on level 3 are replaced with generic encounters.
After level 98, the hidden levels of the Palace (101-115) will unlock automatically. The final battle against Rodrick will include doppelganger enemies to every character deployed (like the battle against Dorgalua). Furthermore, Warren will be a guest who must be kept alive.
4 story battles
19+ battles total with the use of palace guides (69+ without).
Rewards

[

]
Episode 3: A True Knight
[
]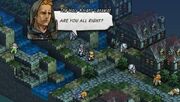 Denam pays a visit to the abbey in Heim currently caring for Lanselot Hamilton. Though he seems in peaceful spirits, the Holy Knight's mind has yet to return. Klaire confesses to Denam that Lanselot saved her life during the Bakram invasion of Rhime. Denam laments the fact that he was in Rhime during Lanselot's capture, but was unable to save him.
What follows is a revisit to Rhime during the time of the invasion. Denam attempts to come to Lanselot's aide, clashing with the Dark Knights Martym and Barbas.
Requirements:

[

]
Location

[

]
Battles

[

]
There are only two battles in this episode. In the second battle, Lanselot will be a guest character who must be kept alive.
Rewards

[

]
Episode 4: The Magnificent Twelve
[
]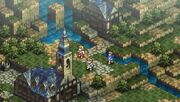 Due to the unveiling of a peace monument in Golyat, Denam, Vyce, and Catiua revisit their hometown for the first time since the end of the conflict. They reflect on how they've changed since the night their home was attacked.
What would have become of them if the Dark Knights never came to Golyat? What if they had to power to stop them?
Requirements

[

]
Location

[

]
Battles

[

]
There are four battles here, each in different districts of Golyat. There are non-playable civilians on each map, but it's not essential to protect them.
Rewards

[

]
No automatic rewards, but the Dark Knights can drop unique weapons. The final battle is the only place to obtain Volaq's 2H sword Balmung, Balxephon's spear Volcaetus, Ozma's second whip Supple Whip, and Lanselot Tartaros' sword Ambicion.

Note that to acquire Ambicion, only Denam, Caitua, and Vyce can be deployed, and Lanselot must be the last character killed.
Additional Quests
[
]
San Bronsa Ruins, an optional dungeon available from Episode 2 onwards.
Several

Heavenly Generals

can only be confronted during CODA.
Deneb can still be recruited in CODA.
External Links
[
]