Messenger of Darkness

PSX Map Name
Antanjyl
SNES Chapter Name
Angel
SNES Map Name
Antanjyl
SNES Revisit Name
Antanjyl
Size
3x3 (Medium)
24 Hour Speed
Short
Stage Music
Wall of Defense
Boss
Galf
Antanjyl is a stage in Ogre Battle: The March of the Black Queen.
The forested valley of Antanjyl is where the demon general Galf was sealed by the Three Knights during the first Ogre Battle. The Roshian Temples on the northern side of the mountains were then filled with monks that kept the seal intact. However, there is one unfortunate town in the middle of the valley which was surrounded by the vampires and creatures of darkness that were drawn to Galf.
Rashidi, a sage of the Empire offered Galf freedom if he would destroy the rebels, and left behind troops from the imperial forces to help him in his task. While Galf holds allegiance to no one, he was willing to do the work of Rashidi for a chance at breaking the seal that contained him.
Locations
Edit
SNES Name
PSX Name
Rebel Base
Mubandak
Mubandak
Towns
Self-Ruled City Bossan
Industrial City Gibbot
Industrial City Inohngo
Shrine City Kinshasha
Trade City Muahna
Magician's City Oshong
Industrial City Popan Court
Temple City Powant Noal
Shrine City Yande
Independent City Bossagoa
Industry City Gabon
Trade City Inohngo
Religion City Kinshash
Trade City Muahna
Magic City Oshogubo
Industry City Popanko
Holy City Poanton
Holy City Yaunde
Enemy Base
Antangeel
Antanjyl
Roshian Temples
4
Hidden Towns
Bossan (SNES) / Bossagoa (PSX)
Gibbot (SNES) / Gabon (PSX)
Kinshasha (SNES) / Kinshash (PSX)
Muahna (SNES) / Muahna (PSX)
Oshong (SNES) / Oshogubo (PSX)
Popan Court (SNES) / Popanko (PSX)
Powant Noal (SNES) / Poanton (PSX)
Yaunde (SNES) / Yaunde (PSX)
Hidden Temples
4
Enemy Unit(s)
Edit
Unit One
Unit Two
Unit
 
Vampyre Lvl 16
Zombie Dragon Lvl 15
 
Vampyre () Lvl 17
 
 
 
 
 
 
 
 
Griffon Lvl 16
 
Zombie Dragon Lvl 15
Vampyre Lvl 16
 
Witch () Lvl 17
 
Deployed
3
3
Unit Three
Unit Four
Unit
 
Wraith Lvl 18
Sylyph Lvl 16
 
Wraith Lvl 18
 
 
Mage Lvl 15
 
Wraith Lvl 18
Mage () Lvl 17
 
Lich () Lvl 17
 
 
Mage Lvl 15
 
Wraith Lvl 18
Sylyph Lvl 16
 
Deployed
3
3
Unit Five
Unit Six
Unit
Phantom Lvl 19
 
Tiger Man Lvl 16
Tiger Man Lvl 16
 
Phantom Lvl 20
 
 
Sorcerer () Lvl 17
 
 
 
 
Phantom Lvl 20
 
 
Phantom Lvl 19
 
Black Knight () Lvl 17
Tiger Man Lvl 16
Deployed
3
3
Unit Seven
Unit




 
Werewolf Lvl 16
Vampyre () Lvl 17
 
 
Werewolf Lvl 16
Vampyre Lvl 16
 
 
Werewolf Lvl 16
Deployed
3
Stage Boss Unit(s)
Edit
Events During Stage
Edit
To recruit the special character Galf, the player must have the following conditions met:

Defeat Galf in battle.
The Reputation Meter must be almost empty.
The Opinion Leader must have an Alignment lower than 31.
The Brunhild must be in the player's inventory, and not equipped by any character.
Select "Yes" when he asks you to hand over the Brunhild.

If all of these conditions are met, Galf will join the rebellion, and Brunhild will be removed from the player's inventory permanently. Note that by recruiting Galf the player will lose the chance for the World Ending and instead will see the Devil Ending.
Events After Stage
Edit
Neutral Encounters
Edit
Buried Treasure
Edit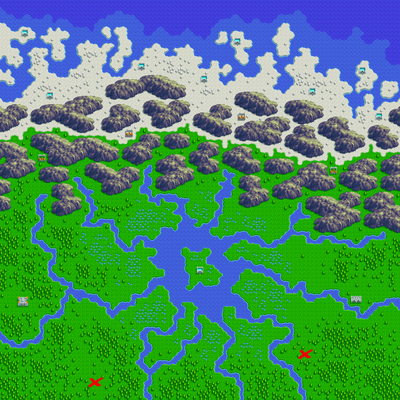 Community content is available under
CC-BY-SA
unless otherwise noted.